Sue & Robert S had just received the go-ahead for a loan to renovate the interior of their lovely home in Mendham, NJ when they realized that they could be risking all the new work if their 20+ year roof failed!
A quick inspection from our roofing experts showed numerous, potential issues with their existing roof. Discoloration and build-up of mildew can be indicators of problems below the visible surface of the roof.
Sue & Robert selected George J Keller & Sons as their roofing contractor to replace their roof and our crew started work on the roof, removing the old roof all the while being mindful of protecting the property and the decorative landscaping close to the house.
All ready to start on your roofing project? Click to contact us or call 973-927-0963 today!
The clients selected a GAF Timberline HD roof shingle for their new roof. The HD shingles add a dimensional quality to the roof that a "flat" color can not do. Sue & Robert chose Barkwood – a dimensional brown shingle that complimented their existing brickwork. While on the roof we replaced an aging skylight with anew one from Velux.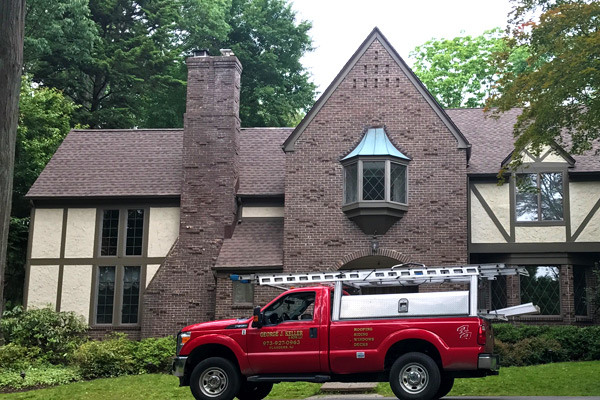 Here's the finished job with a clean bright and secure roof that will now protect Sue & Robert's investment in their home. When you're ready to discuss protecting your investment with a new roof we hope you'll consider George J Keller & Sons – call us today at 973-927-0963!