The overwhelming majority of homes in the US are constructed from wood – when our forefathers arrived on these shores they were amazed at the variety and amount of trees they encountered and home builders haven't looked back since.
Plain wooden houses are, well, plain so over the years various types of siding has been used to a) provide an attractive exterior look to the house and b) provide an extra layer of insulation and protection against the great outdoors. Wooden siding has been used since the 1800's in various forms but has been losing out in popularity recently as it is replaced by more modern materials like vinyl and fiber cement.
But every now and again we come across a house that has wooden siding. Sometimes it's because it's very old, sometimes because the wood has been used as a feature to accentuate the design of the house.
This was the case for the house owned by Toby M. of Hackettstown, NJ – a striking looking contemporary house with wood siding that really complimented the style and design of the house.
Unfortunately, the wood siding was starting to deteriorate and look its age. Mr. M. had resorted to some inventive but desperate measures to fill and repair some of the damage.
George J Keller & Sons were selected to replace the wood siding with brand new natural cedar siding in the same design as the original but with a bright, modern and clean look.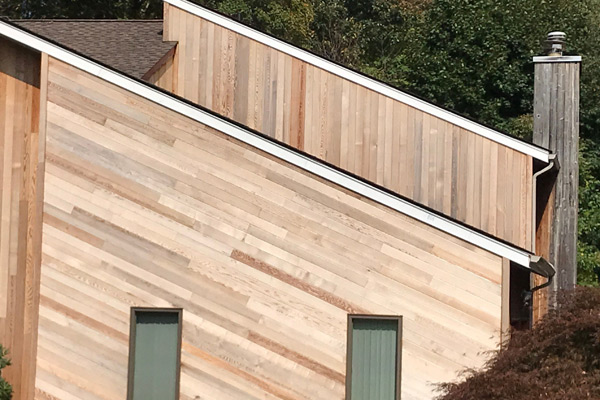 To really make the whole house look like new the project for Mr. M. also included new windows, a new roof, new gutters and new skylights! A complete home makeover that looks fabulous.
When you're ready for you next exterior home improvement project or are thinking about your own house makeover we hope you'll consider the experts at George J Keller & Sons and give us a call at 973-927-0963.