So, it's time to get a new roof, and you're not sure where to begin, or even who to call. It's a common challenge homeowners face, especially for new homeowners or those who have never had work done on their homes before. Should you contact a roofer, a general contractor, or a roofing contractor? They all sound like they could get the job done, but, in reality, only one is ideally suited to the task. With this in mind, who is the most appropriate person/company to call and why?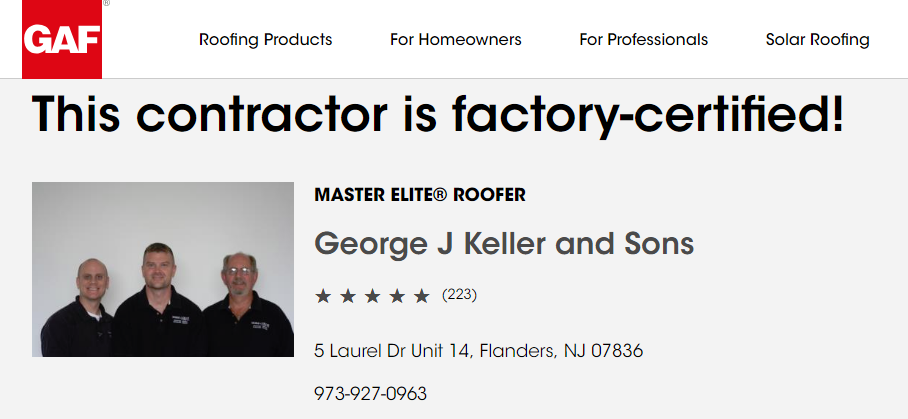 Roofer 
A roofer is simply a person who works on roofs. He or she may be someone who only repairs roofs or someone who is also capable of installing new roofs, but that's the entirety of what he or she does. Roofers often work as crew-members for roofing contractors. A roofer is responsible for tearing off shingles, inspecting the sheathing, repairing/replacing the decking when necessary, and installing the new roofing materials. He or she is also responsible for keeping the site clean, adhering to safety requirements, and following the instructions of the project foreman. 
A roofer is not generally a registered home-improvement contractor as required by the state of New Jersey. Instead, a roofer works under the registration of the roofing contractor for whom he or she works. Because of this, he or she is not able to operate as a separate entity. He or she is not involved in the design or planning processes associated with your new roof, nor is he or she involved in the financial aspects of a roofing project.
What does this all mean? It means that your friend's uncle's buddy's cousin who's a roofer is likely not a qualified, appropriate, or safe choice when you're searching for the best person/entity to replace your roof, even though he may be very good at his job.
General Contractor
As the name suggests, a general contractor is an entity that may be involved in many different aspects of the construction business in residential, commercial, and industrial settings. A residential general contractor focuses his or her business on all aspects of single- and multi-family home construction, including renovation and new-construction projects. He or she is tasked with supervising these projects, many of which require the expertise of subcontractors of various disciplines. A general contractor is a registered home-improvement contractor with the state of NJ who facilitates the entire building process and serves as the primary contact for homeowners. In addition, he or she hires, manages, and acts as the point of contact for all subcontractors, such as plumbing contractors, HVAC contractors, and—yep, you guessed it—roofing contractors.
While general contractors are often very knowledgeable and skilled, they aren't the best option either when you're looking to re-roof your home. Why? Because while they know a lot about a lot, they generally aren't experts in any one area of construction. When you're hiring someone to work on something as important as the thing that protects your entire home—and all the people in it!—it's essential that you hire someone with plenty of expertise and experience in roofing. 
What's more, as mentioned above, general contractors don't do the work themselves—they usually farm it out to subcontractors. Thus, hiring a general contractor means you may very well pay more than you would by hiring a roofing contractor directly, because the general contractor needs to take his or her cut before passing on the payments for the roofing work to the roofing contractor.
Roofing Contractors
A roofing contractor is a company with various employees, including sales professionals, designers, foremen, roofers, and other crew members, all of whom work on roofs (and perhaps other exterior components of people's homes). As a result, they all have extensive experience and a great of expertise installing roofs, so, they're able to execute roof replacements of the highest possible quality.
Roofing contractors (also known as roofing companies) know exactly how to manage various aspects of the re-roofing process, and they have the knowledge and skills to tackle difficult or complex projects, address unexpected problems, and ensure the job is completed on time and on budget. They're able to use their prior experience to accurately estimate the cost of each job as well as the amount and type of materials needed. They also know how to safely handle and dispose of all the discarded building material that accumulates at the job site. 
Roofing contractors also perform the work themselves, rather than hand it off to subcontractors. Importantly, they're also registered with the State of New Jersey to perform this type of home-improvement work. Roofing contractors should also be able to provide you with an extensive list of references that substantiate their expertise. 
In addition to working on roofs, roofing contractors may perform siding and window installations as well. Thus, you can often have multiple types of work performed by a single, experienced company with comprehensive expertise in home exteriors. 
When It's Time for New Roof
For these reasons, when you need a new roof, you should contact a roofing contractors to do the work. George J. Keller and Sons has been installing roofs and instilling trust for nearly 40 years. We're the best at what we do, and we have the experience—and the references—to prove it! Contact us today at 973-927-0963 to learn more, discuss your home-improvement needs, and receive a free estimate.