Curb Appeal Update: The Latest in Siding Colors and Siding Styles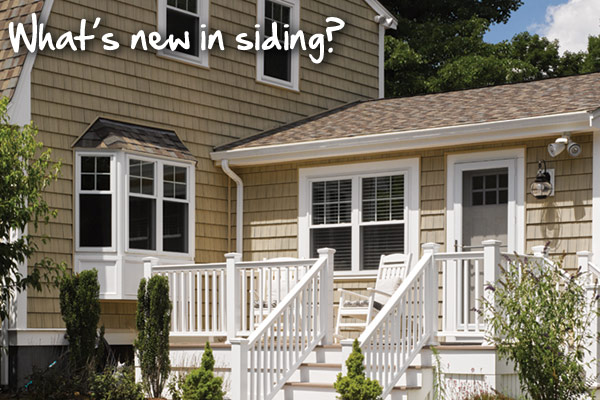 Siding manufacturers regularly introduce new colors and styles of siding, allowing you to update your exterior as often as your heart desires. These trendsetting new looks offer you a wide array of ways to boost the curb appeal of your home and achieve a fresh, new appearance. To help you keep up with all the new options out there, we pulled together the latest style news from GJ Keller's preferred siding partners: CertainTeed® and James Hardie™. Read on for the scoop!
What's New in Siding Colors and Siding Styles from CertainTeed
In March, CertainTeed rolled out four new siding colors to help homeowners achieve a bold, modern look.  According to the company's press release, "By popular demand, CertainTeed introduces four rich, bold shades—Midnight Blue, Slate, Espresso and Castle Stone—to provide even more mix-and-match color options to many of the popular vinyl siding profiles, including Monogram®, Restoration Classic™, Board & Batten and Northwoods®. Each hue in these four quality siding lines gives homeowners access to the latest color trends to create beautiful, personalized exteriors.
"These deep, rich color profiles are available in the Restoration Classic select cedar Double 4-inch clapboard and Double 4-½-inch dutchlap profiles. Monogram features the new colors in three profiles: Double 4-inch clapboard in standard and extended lengths (16-, 20- and 25-foot), Double 5-inch clapboard and Double 5-inch dutchlap. The new colors are also available in the Board & Batten Single 7-inch profile and Northwoods Single 7-inch Straight Edge Perfection Shingles.

"With the addition of the new colors, CertainTeed siding offers the largest vinyl siding color palette in the industry. In addition, every color is backed by PermaColor™ Lifetime Fade Protection to ensure fade resistance for years of beautiful performance."
In February, CertainTeed announced that it had added a new shingle profile to its Northwoods® Siding Collection. The new single 7-inch Straight Edge Perfection Shingles creates polished look with the same durable, classic cedar style, the company says.
The press release went on to explain,
"Northwoods® Single 7-inch Straight Edge Perfection Shingles, CertainTeed's newest profile, [are] a striking addition to the existing line of shakes and shingles…Perfection shingles provide a smoother, more precise siding option for homeowners seeking more contemporary curb appeal.

"While all profiles in the Northwoods line feature a deep, rough texture to look like hand-split cedar, the new Straight Edge Perfection Shingles offer cleaner, crisper edges and more uniform shingles that deliver a beautiful, sleek look. All Northwoods products feature a TrueTexture™ finish molded from real cedar shingles for the classic look of wood without the maintenance.

"Panels in the Northwoods Collection have a Class A flame spread rating, are .060 inches thick, 10 feet in length and can be installed with standard 3⁄4-inch accessories. With superior durability, they can withstand wind loads of up to 200 miles per hour. This profile comes in 17 beautiful colors, including the four new colors that weren't announced until the following month."
What's New in Siding Colors and Siding Styles from James Hardie
James Hardie also made some exciting announcements over the last several months. Most recently came the announcement in January that builders and architects no longer have to sacrifice durability for beauty, thanks to the company's new Aspyre Collection.
"The luxury collection," the press release went on to say, "combines two product lines that can be used individually or in combination to provide industry professionals with unlimited design possibilities that capture their unique visions.
 
"To create the Aspyre Collection, James Hardie paired the thick distinctive profiles of Artisan® siding with the smooth, geometric Reveal® Panel System, allowing architects and builders to create high-performing designs that range from traditional to ultra-modern. This diverse portfolio of products will be available nationally toward the end of 2018.
 
"The wide assortment of textures, profiles and products included in the Aspyre Collection gives design professionals who work with James Hardie the power to build trusted reputations by creating lasting, stand-out projects. With the Aspyre Collection, which is as durable and high performing as it is aesthetically impressive, builders and architects can elevate their designs to achieve any vision from traditional to contemporary.
 
"The 5/8-inch thick Artisan siding profiles casts deep, gorgeous shadow lines to create strong horizontal and vertical definition. Architects and builders have the ability to miter corners to add a level of sophistication to any design. With Artisan siding, homeowners, builders, and architects can expect the uncompromising performance and durability of fiber cement with the traditional look of cedar. Artisan siding features lower profile seams through lap and Lock Joint systems as well as six distinct profiles.

"The Reveal Panel System is a complete, customizable system of commercial-grade panels, trims and fasteners, offering clean, simple lines to give homes a modern aesthetic. Reveal panels can be installed horizontally or vertically, and can be cut to size on-site, providing further design flexibility. The Reveal Panel System offers an integrated system of panels, exposed or counter-sunk fasteners and two different trim profiles: Reveal Recess and Surround trim. Reveal Recess trim accentuates deep channels while Surround trim adds dimension and emphasizes height for an industrial aesthetic."
Visualize A Whole New Look for Your Home
Intrigued by the new siding styles and siding colors offered by our preferred partners? If you're considering new siding for your home, or if you are just wondering what your home might look like with an entirely different facade, give the siding experts at George J Keller & Sons a call today at 973-927-0963! Our experts will help you visualize how beautiful and welcoming your home can be with our new siding styles and colors. Call us today for a free consultation and estimate.