With all the different types of siding available, you're probably wondering what kind of siding is best for your climate. Siding can do its job best when its engineered for your specific conditions. Factors such as humidity, wind, snow, sun, heat, cold, and temperature fluctuations can all play a role in the type of siding you should ultimately choose to protect your home and the people who live in it! Let's take a look at some of the most popular types of sidings and the climates they are best suited for.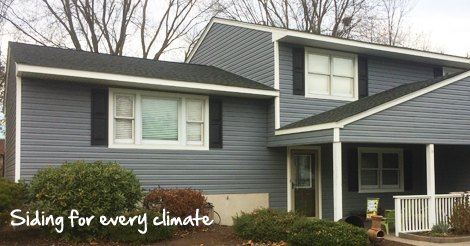 Vinyl Siding
This versatile, affordable siding type is one of the best kinds of siding for a range of climates. However, basic vinyl siding it is best suited for regions that don't experience frigid cold or extreme heat. That's because vinyl can become brittle in very cold temps, making it susceptible to cracking. On the other end of the spectrum, hot weather can cause vinyl to develop a wavy appearance. Luckily, those who appreciate the affordability and versatility of vinyl siding can find high-quality manufacturers like CertainTeed who have specifically engineered siding that will work for your climate.
Those who live in colder areas of the country can have insulated siding installed, which in addition to having insulative properties, will help protect the siding itself from wind, hail, rain, and snow. This is because this kind of siding is made of thicker vinyl and is backed by rigid foam, which provides superior protection against the elements. Live in a warmer locale? CertainTeed vinyl won't become damaged in the heat and sun. It's virtually maintenance-free and never needs painting, and the manufacturer produces several types of sheathing products made to meet the demands of varying climates to further customize the look.
Fiber-Cement Siding
The beauty of fiber-cement siding, which is composed of wood pulp and Portland cement, is in the fact that it has so many strengths, making it the best kind of siding for many applications. It has the rugged good looks of wood siding yet it wears like cement. It's also made to withstand the harshest elements—which makes it an excellent choice for all types of climates. But James Hardie takes that climate versatility a giant step forward with its HardieZone technology.
Hardie offers two different types of HardiePlank siding—its flagship product—with precisely engineered characteristics to best protect and insulate homes in southern areas of the country, where blistering sun, scorching heat, and high humidity more often rule the day, and in the middle of the country as well as the north, where fluctuating temps (that go from hot to frigid and back again), and rainy or snowy conditions are often the norm. Like vinyl, fiber-cement siding is virtually maintenance-free.
Wood Siding
Wood siding offers an undeniable natural beauty, but its highly susceptible to rot, mold, mildew, and pests, so it's not a great fit for humid areas of the country. Temperature fluctuations can make wood expand and contract with the weather, which can cause the wood to crack and split, so wood siding is not best suited to areas that experience changing temperatures throughout the year. UV rays can also damage wood surfaces.
Love the look of wood but not crazy about its finicky nature? Luckily, you can find vinyl and fiber-cement products that mimic the look of real wood. And if you really have your heart set on the all-natural stuff, go with cedar or redwood, which hold up better than soft woods like pine. No matter what, be prepared to clean and seal the wood often.
What kind of siding is best for your climate?
The fact is, no matter what kind of siding you have, it can be impacted by weather conditions, so it's critical that you choose siding best suited to your climate. Still not sure what the best kind of siding is for your home? We are certified installers of various different types of siding made by GAF, CertainTeed, and James Hardie, so we can guide you in making siding decisions that fit your tastes, climate, and budget. Call us today at 973-927-0963 for a free consultation and estimate!