When a homeowner decides to invest in new siding, two questions usually rise to the top. First, what kind of siding is available? And second, what's the cost of new siding? To help you understand the siding options available to you and how each one will affect your budget, we're providing you with this comprehensive list of the most popular siding options, along with the costs and benefits of each.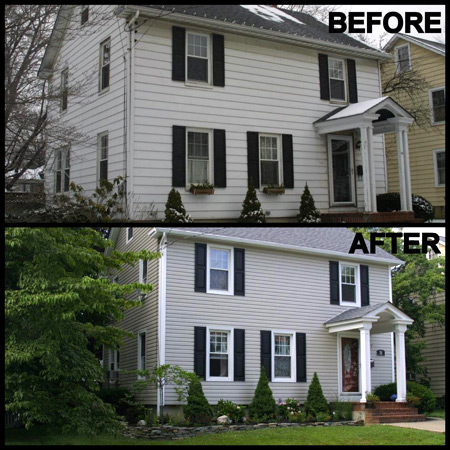 Vinyl Siding
Vinyl is still one of the most popular siding options due to its affordable cost, easy maintenance, and ability to mimic many types of materials. It's available in beaded-seam style, smooth-look, board and batten, and shake or shingle. Considering with its versatility, the cost of vinyl siding is hard to beat.
Vinyl siding only requires a cleaning when it's looking dirty to keep it looking great, and it's resistant to rot and insects as well. It also doesn't require repainting. That said, it can be damaged or torn off by strong storms or hail, and heavy rain get behind the seams, especially if it's improperly installed. Also, temperature variations can cause it to warp and crack. It's nevertheless a budget-friendly option that can furnish your home with the style you're after.
Vinyl costs approximately $2 to $7 per square foot, which varies depending on the area in which you live and the style you choose. Also, be aware that insulated vinyl, which not only insulates but helps to protect against dents and even helps to dry out rainwater that might be forced behind the siding, can add about 30% to 50% to the cost of regular vinyl siding.
Fiber-Cement Siding
More and more, customers who ask about the cost of siding want an estimate for this kind of siding, and it's easy to understand why. Fiber-cement board, such as Hardie® board, is a very long-lasting material made up of sand, cement, and wood pulp. It resists wind, fire, insects, and rot and requires little maintenance, but takes great care to install. This is because it's susceptible to cracking, which is why also why a bit of maintenance is also required with this type of siding (see below). On the other hand, it mimics wood quite nicely, is available in several styles, and can be repainted if you tire of the color. Read more about fiber cement siding here.
Hardie board should be inspected once a year for holes in the caulking between the seams, and the siding should be washed down as well. Do take care to ensure you use the proper setting for a power-washer before letting it loose on your fiber-cement siding, as too much pressure can peel the paint (consult the washer's manual for setting recommendations).
Fiber-cement board costs $0.75 to $5.00 per square foot, which varies depending on the area in which you live and the style you choose. Because it requires special skill to install, however, you can expect total project costs to be about 1.5 times that of vinyl siding installations.
Engineered Wood Siding
Engineered wood is a wood product that is made by binding together wood flakes and sawdust with a bonding agent, resulting in a siding option that looks like wood but is stronger and lower in cost. Like wood, it's also from a sustainable source. However, like wood, it requires a lot of maintenance and is susceptible to rot, mold, and insects. It's also prone to moisture problems if it's not installed properly.
Engineer wood costs about $2.25 to $5.30 per square foot, which varies depending on the area in which you live and the style you choose.
Wood Siding
Wood siding, which can be made from a variety of tree types, is natural, beautiful, and sustainable, coveted for the character and charm it adds to a home. Available in a wide array of styles, wood is easy to stain and paint as often as your heart desires. Unfortunately, man-made options such as vinyl require considerably less maintenance and may last a lot longer, especially given that wood is susceptible to rot, mold, and insects and requires lots of tender loving care. Nevertheless, wood siding is the "only" choice for some discerning homeowners, especially those who own much older houses and want to preserve the authentic period look of their homes.
Wood siding costs about $3 to $10 per square foot, which varies depending on the area in which you live and the style you choose, as well as the type of wood that's used.
Other types of siding, such as aluminum, can start as low as $2 per square foot, while a high-end option like stone can top out at up to $30 per square foot. The only way to know what it will cost to re-side your home with the siding type you love is to schedule an appointment with a trusted, local remodeler such as George J. Keller & Sons. We offer free estimates and have been working on New Jersey homes for over 35 years! Call us today at 973-927-0963.