Just as we shared several with you several types of eco-friendly roofing materials earlier this month, today, we'll talk about environmentally friendly siding options. Due to the increasing focus on eco-consciousness, there are an increasing number of green materials available to homeowners looking for siding in New Jersey. There are several factors that affect a siding material's eco-friendliness quotient: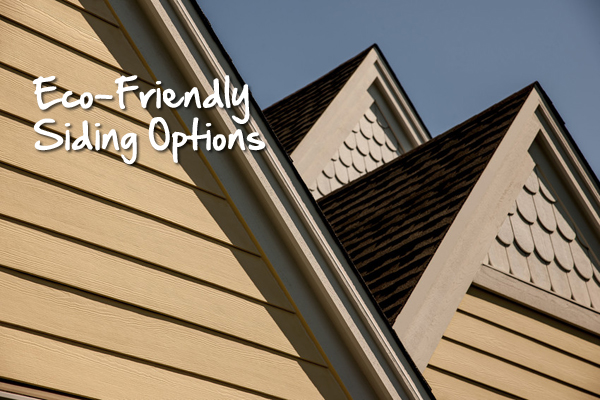 The amount of manufacturing required:

The more manufacturing a product requires, the more energy (such as electricity and gas) is used, which not only depletes resources and requires the use of fossil fuels, but also creates air pollution.  

How long the material lasts:

The longer a material's useful life, the better, as it staves off the need to devote new resources, energy, and materials to its replacement.

How many chemicals are involved in manufacturing and in the end product:

Some siding products, such as vinyl, are made 100% with chemicals which by themselves may be harmful. Other products have varying amounts of added chemicals.

How natural it is:

Products like stone are found in nature, making them natural siding options.

Whether it's recyclable or biodegradable:

Some types of siding can't be recycled but are biodegradable—which means they won't be sitting around in landfills for hundreds of years. Some green siding options are both biodegradable and recyclable. Fortunately, virtually no siding product is neither recyclable nor biodegradable.

Whether it can be locally sourced:

If a siding material can be sourced locally, this reduces the amount of transportation required to get the product from its source to the home where it will ultimately be pressed into service. Green siding materials can often be found and sourced all over the U.S., making them local to many of the communities that will use them.

Whether it's renewable:

Ecofriendly siding materials are often made from renewable resources, which means limitless amounts of the material are available or can be produced.
Now that you understand what makes a siding material environmentally friendly, let's go over several types of ecofriendly siding options that are installed by New Jersey siding contractors. We'll review the attributes each product has that makes it a green siding material and review its pros and cons:
Fiber-Cement Shingles or Clapboards

: Fiber-cement siding, such as HardieShingle and HardiePlank, is one of the eco-friendliest siding materials out there. It's created by combining sand, wood pulp, and cement. Fiber-cement board is biodegradable and can be locally sourced. It's also made from natural ingredients and is extremely durable and long-lasting. Already a low-maintenance product, fiber-cement siding rarely needs repainting, which further reduces the resources needed to maintain it.





Fiber-cement siding is relatively difficult to install, so be sure to look for NJ siding contractor that's certified in its installation.



Brick

: Made from only a few natural ingredients, including shale, clay, and water, brick is another green siding option that's popular with homeowners all over the country. Brick siding is an extremely long-lasting type of siding, is highly energy efficient, and can be locally sourced and recycled. It's fireproof so it won't release toxic chemicals or be destroyed in the event of a fire.

Stucco

: Virtually chemical-free, stucco is made by combining all-natural ingredients that include Portland cement, water, sand, and lime. It requires little manufacturing and is highly energy-efficient, serving as an excellent insulative barrier. Stucco is durable and long-lasting and requires minimal maintenance. It's is also a recyclable siding material.



Rock and Stone

: While they're technically non-renewable resources, rocks and stones are available in abundance in many places around the globe. They can often be locally sourced and are all-natural siding materials. Rocks and stones are also highly energy efficient and require little to no manufacturing in order to be used as environmentally friendly siding materials for your home. They can also be reused and recycled.

Metal:

Many types of metal siding are recyclable and come from recycled sources, making this an ecofriendly siding option. Metal siding is also affordable, and, because it doesn't require much maintenance, few resources must used in its upkeep. It's also impervious to rot and insect damage.

Wood:

Last but not least, wood siding is a very popular and attractive green siding option that's renewable and natural. You can also ensure your siding is certified by the Forest Stewardship Council (FSC) and Sustainable Forestry Initiative (SFI) before purchasing, which boosts its ecofriendly quotient. Wood is recyclable, biodegradable, and can be locally sourced. Reclaimed wood is becoming increasingly popular and several types of wood can be used as green siding options.
Finding the Right New Jersey Siding Contractor
While many New Jersey siding contractors work with the materials on the list, not all have the experience and training necessary to do the best possible job on re-siding your home. It's critical, then, that you choose a New Jersey contractor like George J. Keller and Sons, which is a certified James Hardie siding installer as well as a certified CertainTeed siding installer and has been in business for nearly 40 years, with extensive experience working with many types of siding materials. If you're looking for environmentally friendly siding options AND the best company to install them, call George J. Keller and Sons. We'll be happy to answer any questions you have and even give you a free estimate!