Selecting a roofing contractor can be a daunting task for even the most seasoned homeowners. To begin with, you're making a sizable investment in your home, and who you choose to do the job can and will make the difference between a high-quality, meticulously installed roof and a slapdash, cut-as-many-corners-as-possible job. So, before you've even spoken with an NJ roofing contractor, you're likely feel some pressure to choose wisely. You may also be faced with immediate problems that need to be addressed quickly. Perhaps your roof has suffered from storm damage. Maybe your roof is leaking or too many shingles have blown off.  If your roof needs prompt attention, you'll need to take extra care to ensure you aren't rushing to make this important decision.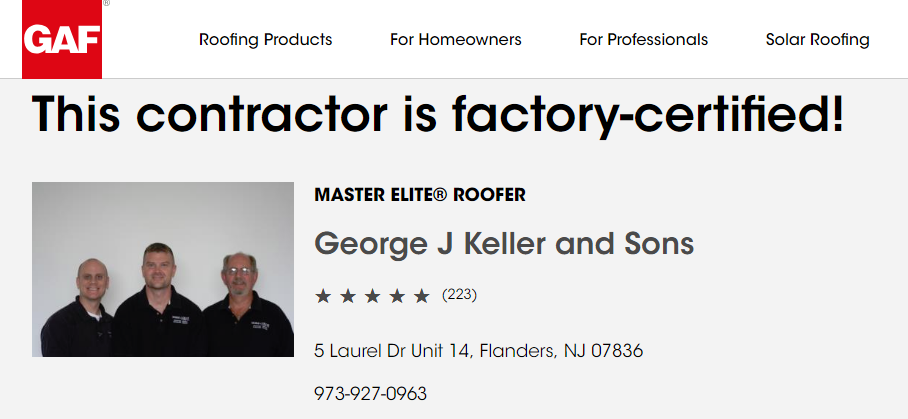 Even when you're able to truly take your time as you make your way through the process of selecting a roofing contractor, you may start feeling stressed out and overwhelmed. That's because there are hundreds of NJ roofing contractors, and they run the gamut from those overly assertive folks who use high-pressure sales tactics to rope you into a contract with a "limited-time" offer to shady, fly-by-night companies who do a shoddy job and then disappear, leaving a pile of rubbish and a rickety roof behind. Yikes.
Luckily, there are plenty of honest, reputable companies out there who take pride the communities they serve and in doing their jobs well. But how do you spot the "good guys" and weed out the bad? Here's what to look for:
First Contact
A roofing company should never contact you through door-to-door sales or unsolicited calls. The first time you make contact with a roofing company, you should be the one reaching out—perhaps because you saw an advertisement, received a mailer, or got a referral from a friend.
Sales Meeting
Once you set up a meeting, a roofing company should provide you with a detailed, written estimate of what the job will cost, what is included in that cost, etc. A reputable roofing contractor will provide you with a guarantee that the price will not change as long as the scope of the work doesn't change.
Why would the scope change? Sometimes, problems are uncovered during the course of the project that could not be anticipated in advance, such as finding rotted decking under shingles, for example. However, a good roofing company will always perform an inspection of both your roof's exterior (by climbing a ladder) as well as its underside (by heading into your attic or crawl space) before providing you with a written estimate. This maximizes the chances that the scope your roofing project will not change.
In addition to an estimate, an NJ roofing contractor representative should have no problem providing you with the following information:
Home-improvement contractor registration showing that the company is an NJ roofing contractor in good standing

Certificate showing current insurance coverage

Business registration certificate, which shows how long the company has been operating

Policies regarding the contractor's crew with regards to behavior, smoking, drugs, and alcohol

Plenty of references from past customers you may contact directly, especially those in your local community and those who have homes similar to your own

Accreditations showing the contractor is committed to ongoing training, such as GAF's factory-certified Master Elite Roofing Certification
Signing the Contract
An honest, dependable roofing company will be comfortable with you taking your time to select a roofing contractor and will have no problem with you obtaining estimates from several different companies (which you certainly should do!). The representative should not pressure you into making a decision or attempt to get you to sign a contract by offering a "special deal" available only if you sign the contract before he or she leaves.
The Cost of Doing Business
You should also be wary if the contract stipulates a price that's significantly higher or lower than other estimates you've received. A much higher price may indicate you're being taken advantage of. At the same time, a very low price might seem like a good deal on its face, but your contractor will likely need to cut corners or do the job improperly or incompletely to make any money. You should feel as if the price is reasonable and fair (which does not necessarily mean cheap!), and you should understand exactly what you're getting for your money.
A reputable roofing company will never require that you pay for an entire job upfront. Most roofers will request 1/3 to ½ upfront, which is reasonable and necessary to ensure they have the funds needed to purchase materials, secure permits, etc.
After You Sign
Once the contract has been signed, you'll want to continue to monitor the job and be on the lookout for any red flags. Your contractor should pull the permits needed for the job, and should never, under any circumstances, ask you get them yourself. Your contractor's foreman should stay in contact with you during the job to let you know how things are going and discuss any concerns or delays. The crew should arrive on time, behave appropriately and respectfully on site (no smoking, loud music, or poor language) and leave the worksite reasonably tidy when they leave for the day.
After the Job Is Done
You and the foreman should inspect the roof after the work is complete. You should not sign off on the project or pay the remaining balance until any concerns you have are addressed and any problems are rectified. If you feel dissatisfied in any way or have an issue with your foreman, don't be afraid to call the company and speak to the owner.
Next Steps
Now that you know how to select a roofing contractor, you may be ready to take the next step in getting a new roof for your own home! George J. Keller and Sons has long enjoyed a stellar reputation in Morris County and its surrounding communities, where we've been installing roofs for nearly 40 years. Give us a call today at 973-927-0963 to arrange a meeting with us and find out why we've been the NJ roofing contractor of choice for thousands of homeowners throughout the state!