George J. Keller & Sons have had a long relationship with GAF Corp – the largest manufacturer of roofing shingles in the US, with over 3700 employees and over $3B in annual revenues. GAF operates an informative and inspirational blog that they call RoofViews. We've collected a handful of our favorite posts from the RoofViews blog and present them for you here.
We get asked all the time about unsightly stains and streaks on homeowners roofs – we wrote about it back in 2020 here. As with many household issues the best offence is a good defense and in this case a good defense starts with GAF's Time-Release Algae Fighting shingles.
What are the benefits of GAF time-release algae fighting shingles?
GAF Time-Release Algae-Fighting Technology provides the algae protection homeowners are looking for. In a recent GAF survey of 500 homeowners, 87% of homeowners thought it was very to extremely important to protect their roof from blue-green algae. 89% said that warranty length was very to extremely important when purchasing algae protection products. GAF Time-Release Algae-Fighting Technology helps meet these homeowner needs.
Read the full article here: https://www.gaf.com/blog/your-home/time-release-algae-fighting-technology-offers-long-lasting-roof-algae-fighting-power-281474980154924
This is a common feature on houses in New Jersey and is often the result of adding a room or adding a level onto an existing building. What homeowners don't realize is that there's quite a technique to correctly adding a roof to a dormer. This article describes this type of roof in more detail.
A dormer is built and set into a slanted roof. Notably, it always features at least one window. Dormers have roofs and come in a variety of sizes and shapes. The right choice of dormer will depend upon the style of your home. Dormers are great compliments to a home's existing architecture that add visual flair and curb appeal.

Dormers can give your roof a sense of added height to a horizontal-shaped dwelling. It creates usable space, headroom, and natural light, allowing it to offer a range of unique design opportunities.
Read the full article here: https://www.gaf.com/blog/your-home/what-is-a-dormer-roof-281474980153633
This is another topic that we've reported on in the past (https://gjkeller.com/be-careful-of-ice-damming-repost-from-2017/). Its always great to get more details on this type of topic from the experts!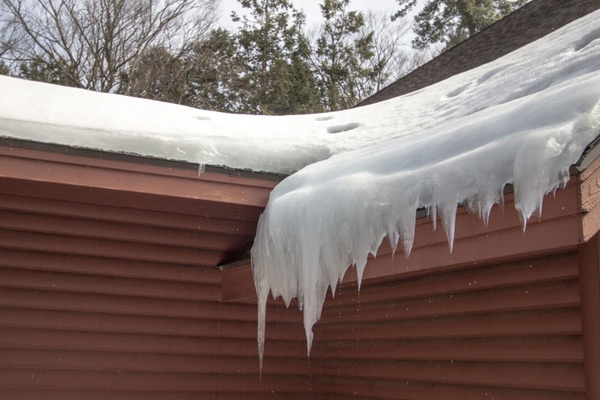 How Ice Dams Form

Ice dams are caused by accumulated snow and uneven roof temperatures. During winter, when the upper area of a roof is warmer than the lower edge, nearest the eave or overhang, snow begins to melt and run down the roof slope. Once it reaches the colder roof edge, it refreezes, creating a block of ice called an ice dam. An ice dam prevents snowmelt from draining, causing water to pool on the roof which can eventually back-up under you shingles or cause damage to your roofing system and home's interior.

Uneven roof heating can be caused by inadequate attic ventilation or insulation. Heat from the living space below escapes through the ceiling into the attic, warming the roof surface and melting snow in patches, even if outdoor conditions keep the rest of it below freezing. Proper attic ventilation and insulation will help keep your roof uniformly cool, helping to prevent ice dams.
Read the complete article here: https://www.gaf.com/blog/your-home/can-ice-dams-cause-roof-damage-281474980149986