One of the great things about being an NJ roofing contractor is that we're part of an industry that's constantly innovating. New technology is regularly being developed that lengthens a roof's lifecycle, boosts its aesthetic appeal, and adds to its list of features and benefits. One company that stays on the cutting-edge of that tech is GAF, whose products top more homes and businesses than any other roofing manufacturer in the U.S.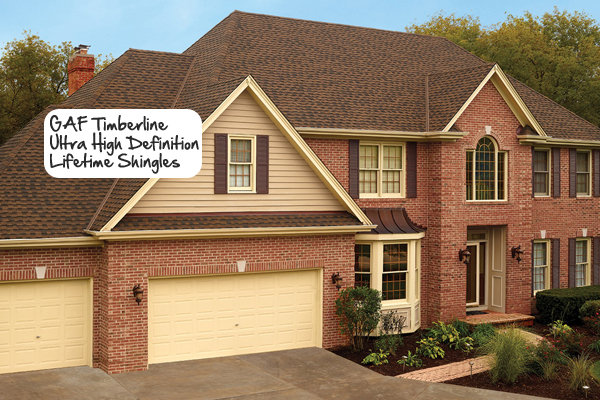 Exceptional Beauty and Performance
In keeping with their commitment to innovation, GAF recently introduced a new architectural shingle, the Timberline® UHD Shingle, which features proprietary color blends and an enhanced shadow effect to boost its natural beauty and elevate its three-dimensional appearance. These shingles are also ultra-high-performance products, with the highest possible roofing fire rating, exceptional adhesion, advanced stain resistance, and a transferable warranty.
The Timberline UHD shingles also promise to give your home a huge boost in curb appeal—and they may even increase its resale value! At just pennies-a-day more than standard architectural shingles, these shingles are more than 50% thicker and offer a realistic wood-shake appearance to give your home a timeless, rustic look that so many NJ roofing contractors are being asked to create these days.
The Timberline architectural shingle line by GAF is unmistakably beautiful, and so dependable and high quality that it's earned the Good Housekeeping Seal. Introduced in 1909, the seal has been helping consumers make smarter purchases for more than 100 years. Its presence on a product assures consumers that the produce has been extensively vetted by our experts. Good Housekeeping so stands by its seal that it offers its own warranty on all products that bear the seal.
Safe and Sound
With a UL Class A fire rating, listed to ANSI/UL 790, you can rest easy knowing you and your family are sleeping under a roof with the highest fire rating available. Designed with GAF's Advanced Protection® Shingle Technology, the shingles are manufactured with a focus on reducing the use of natural resources while maintaining an exceptionally high level of protection and performance.
The shingles are also made and installed with high-quality adhesive seals to ensure they stay put, even during a high-wind event like a thunderstorm. In fact, as long as they're properly installed by a trusted roofing contractor, they're warrantied to stay in place in winds up to 130 mph!
Long-lasting Beauty
Timberline® UHD Shingles are available in ten colors, including barkwood, weathered wood, slate, shakewood, charcoal, pewter gray, patriot red, hunter green, hickory, and fox hollow gray. The shingles also feature GAF's patent-pending StainGuard Plus™ Time-Release Technology, which employs tiny capsules that slowly release algae-fighting copper over time. If you've ever seen dark, ugly stains on a roof—perhaps even your own—you've seen blue-green algae at work. Copper is a natural fungicide and helps to prevent these unsightly algae from staining your beautiful new roof. It provides such long-lasting algae resistance that your roof is warrantied for 25 years against blue-green algae discoloration! Thanks to this technology, your roof will retain its beautiful color for decades to come.
A Trusted Partnership
George J. Keller and Sons, a leading NJ roofing contractor, has a longstanding relationship with America's #1 roofing manufacturer, having worked with the company's roofing products for decades. We're committed to maintaining stringent standards in all aspects of our business, which is why we've been certified as a Master Elite® certified contractor. This means that we've undergone additional, ongoing training through GAF to ensure that we're providing you with the best possible service.
We're proud to report that only 3% of all roofing contractors have qualified as Master Elite! Our status as Master Elite provides you with the assurance that you're dealing with a high-quality, dependable roofing contractor.
President's Club
What's more, we recently received additional, objective verification from GAF that we're doing things right: George J. Keller and Sons recently received the 2018 President's Club Award from GAF, which recognizes the most elite residential and commercial roofing contractors in the U.S. This award distinguishes us as a roofing contractor that's dedicated to premier service, reliability, and performance.
If you're looking for an NJ roofing contractor to install GAF's new Timberline shingles or any other roofing product, contact us here at George J. Keller and Sons, where we've been installing roofs and instilling trust for nearly 40 years! You can trust us to do the job right for beautiful results that will last for decades. Call us at 973-927-0963 today!