There's nothing too complicated about this roofing project on the face of it. Mr. K has a lovely extended ranch in Wayne and he needed a new roof for his home.
When our roofing experts talk to our clients, they spend quite a bit of time explaining that it's never as straightforward as just attaching new shingles to a home. It's much better to think of it as a roofing system rather than just putting some shingles up.
This project had many of the elements that highlight this system approach.
After removing the existing roof shingles the application of the new roof proceeded as follows:
Installation of Ice and Water shield where the roof meets the side wall of the house. The ice and water shield creates a barrier at the most vulnerable areas of your asphalt shingle and helps prevent leaks due to water backing up in your gutters, wind-driven rain, and, in the North, damaging ice dams.

Installation of felt underlayment on all exposed wood surfaces. This underlayment adds a layer of protection between your structural roof decking (the layer of wood that covers your rafters) and your roof shingles helps create a better-looking and longer-lasting roof.

Installation of GAF eave/rake starter strips which have special adhesive which helps reduce the risk of shingle blow-off.

Installation of GAF Lifetime "Timberline HDZ" dimensional shingles. These shingles are constructed with Algae Resistance built in, enhancing the look of the roof for many years.

Installation of ridge vents and ridge caps. These help exhaust heat and moisture from your attic.
Altogether five separate components making up a roofing system – not just shingles!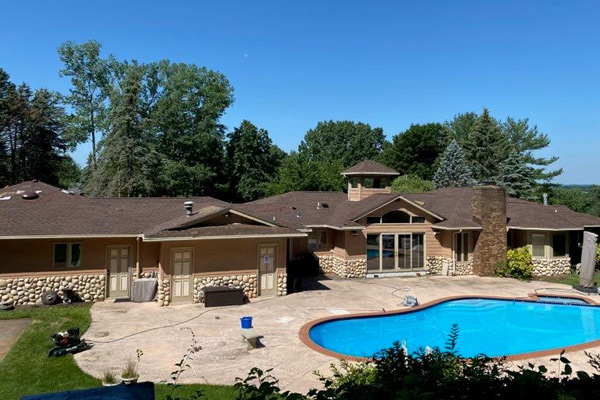 The final part of the roofing system for Mr. K was the inclusion of the GAF Weather Stopper "System Plus" extended warranty – a warranty only available from MasterElite Roofing Contractors, like George J Keller & Sons. This premium warranty extends the protection period of the roof from 10 to 50 years.
If you're looking for a new roof make sure you're talking to a reputable roofing contractor who'll talk to you about the whole system rather than just the action of putting some shingles on your roof! George J Keller & Sons are GAF MasterElite Roofing Contractors and have been installing roofs and instilling trust since 1980! Call us today at 973-927-0963 to arrange your no-obligation assessment.