We recently completed a nice siding project for Shannon & Dan, a great couple in Morristown.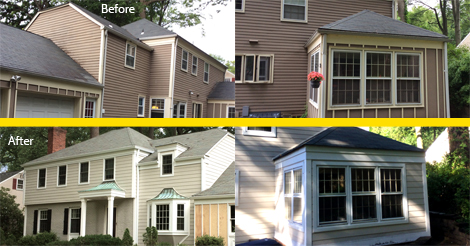 After meeting with our sales consultant, Brendan, the client selected James Hardie fiber cement siding as the best solution for their needs. Fiber cement siding is a great choice for many homes because it provides a combination of desirable features:
Good looks – fiber cement siding is available in a wealth of colors to suit every taste; bright, subdued, traditional, modern.
Durability – when correctly installed fiber cement siding lasts in the 15-25 year range
Low maintenance – fiber cement siding doesn't require painting or complicated cleaning; spraying with a garden hose every 6-12 months is what most homeowners find is needed.
Affordability – fiber cement siding compares very favorably with competing methods of siding and when you factor in the cost of (or lack of) maintenance its competitive against even the cheapest methods.
Shannon & Dan selected a lovely James Hardie color called Cobblestone, a bright gray/yellow color that really brightens the house.
Here are some of the comments from Shannon & Dan after the work was completed:
"George J Keller & Sons were extremely professional, catered to my needs and hands down the best contractors that we have ever worked with! I was most satisfied with the quality of the work (everything came out fantastic), the speed with which they worked and sticking to the timeline. From top to bottom, from the ownership all the way to the guys doing the work, the people couldn't be more friendly or personable. It was a really great experience and we look forward to working with them in the future!"
New siding can have a big impact to the curb appeal of your home as well as other "hidden" benefits – if you're considering siding for your home, especially James Hardie fiber cement siding we hope you'll give us a call at 973-927-0963 or send us an email and let us do for you what we did for Shannon & Dan.