So, where do you go when you inspiration for a home improvement project?
We might see something that our neighbors have done and we say "I'd like something like that…" Or maybe we ask friends and family for suggestions. If they don't work for you and you need some additional help we can strongly suggest Houzz where homeowners can get some great ideas for home improvement projects. But there are many other places, especially on the internet, where you can turn to for inspiration.
Here's a story of one owner, one house, a flash of inspiration and a completely new look.
Mrs. B. of Morristown owned a lovely, older house that was showing its age with dark wooden siding and areas of rot especially around the old front door.
But it was tough to deny that house had potential. Just how to get the most out of it? Mrs. B looked and looked and eventually found something she liked on Pinterest.
Could this treatment be applied to her house? Fortunately she contacted George J. Keller & Sons and we were able to confirm that we could remodel her house to pretty closely match her inspiration.
The first part of the project required the building out of the new dormers through the roof.
Then a new GAF Camelot roof was installed across the whole house and the old siding was removed. The building was then prepped to receive new James Hardie siding.
The remodeling was completed before the holidays and included Simonton and Andersen windows and a custom-built entrance way into the house.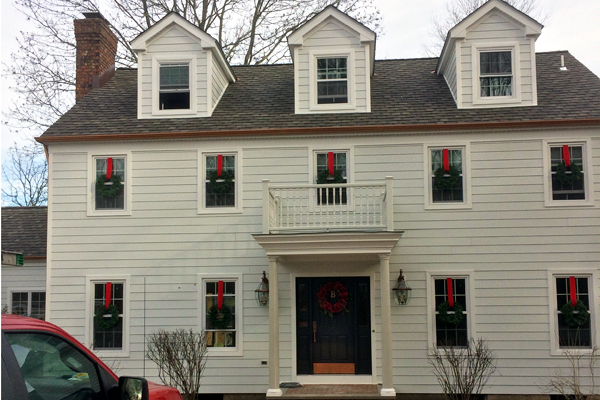 How do you think we did – from old through inspiration to completion?