Mr. and Mrs. L. of Flanders contacted us in May of this year to replace their roof and siding.  One of their main concerns was the existing asbestos siding on the house.
Asbestos was commonly added to cement siding up to the late 1970s/early 1980s before being banned by the EPA in 1989. The asbestos was added to add fireproofing and stability to the cement siding – the resulting siding was very durable and is still a feature of many older homes.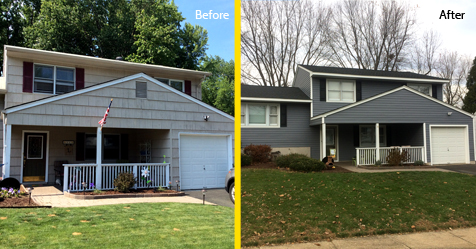 There's no specific requirement to remove asbestos siding and many home owners simply leave it in place and put new siding over the top. Mr. and Mrs. L. decided that they wanted the old siding removed which required us to use special precautions – A special asbestos dumpster is used to dispose of the material and the crew wears respiratory masks and Tyvek suits to minimize the exposure to the asbestos.
The contract with Mr. and Mrs. L. was signed in September. The roof was replaced in October and their siding in November.
Everything went off without a hitch and the house looks beautiful! If you have older siding that might include asbestos or you simply want to increase your curb appeal, we hope you'll give the roofing and siding experts at George J Keller & Sons a call at 973-927-0963 for your no-obligation consultation!