If your home's siding is worn, damaged, or just plain outdated, you may be wondering what's involved in getting new house siding. Luckily, the process of replacing your siding likely won't affect you, the homeowner, very much at all. You can probably still live in your home and come and go as you please. Why "probably"? Read on to find out the answer and much more: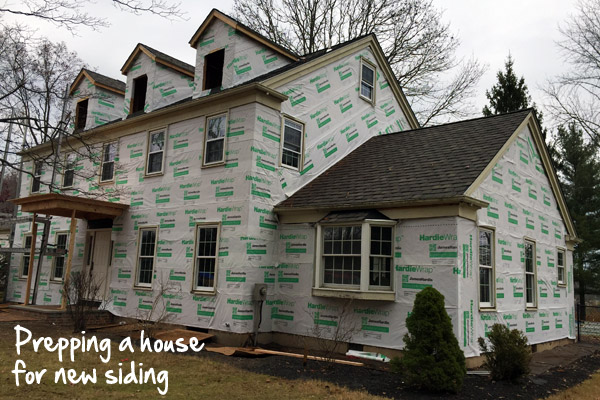 Picking Your Products: Your contractor will review your siding options, go over pricing, and help you choose decorative elements to complement your color scheme and siding choice. Once you've picked everything out, the materials will be ordered, which could take several weeks, depending on the products you've chosen. You and your contractor will decide on an installation schedule and your contractor will pull the correct permits.
Preparing Your Property: Before the install, remove pictures and wall décor from your exterior walls to prevent them from falling or breaking. Also, remove any lawn furniture or décor from the exterior perimeter of your home so the workers have room to maneuver. Getting new house siding is exciting, but also noisy! If you have pets, you might consider having them stay elsewhere during the install in order to prevent them from becoming anxious. If you decide to keep them at home, consider moving them away from the area with the most noise during installation of your new house siding. Work from home? You might want to work elsewhere for the day. However, these are only suggestions and generally there will not be a need to vacate your home. Finally, while not required, we recommend you notify your neighbors that you're getting new house siding and let them know how long they can expect the work to take.
Out with the Old: A dumpster will be delivered to your home prior to removal of your old siding and placed in a mutually agreed-upon area. During siding tear-off, you will still be able to exit and enter your home, but be sure to discuss which entrance to use with your contractor. This will ensure no one is injured by falling debris. If you let your pets out, keep them leashed to prevent them from straying toward the construction area.
Assessing Any Damage: Once your home's siding is off, your contractor may discover problems that could not be predicted, such as water intrusion, flashing damage, or even structural issues. If your home needs any new sheathing (the plywood that is found under your siding and house wrap), this may mean you'll want to vacate your home during this part, as tearing off sheathing and replacing insulation could mean your home becomes uncomfortably cold for a bit. This situation is rare, but if it does happen, you and your contractor will discuss together the best plan of action.
In with the New: Once any problems are corrected or repaired, your home will be wrapped with a new, weather-resistant barrier (known as house wrap) and new flashing will be installed. If your walls are uneven (which is common, especially on older homes), furring strips will be installed to create an even mounting surface. Then your siding, trim, and decorative elements will go up, and all joints will be sealed to prevent water intrusion.
Inspect and Admire: Once the process of replacing your siding is complete, the work crew will remove all debris, and your foreman will walk around the property with you to perform a final inspection. All that's left to do is admire and enjoy your home's new look!
We hope this explanation of the process of replacing your siding has helped you understand what to expect. Considering getting new house siding for your home? Believe it or not, now is the perfect time to contact us! Spring is right around the corner (we promise!), and if you start now, your home will have a fresh new look in time for the warmer weather! Call us today at 973-927-0963 to get a free estimate on getting new siding for your home!