Is your home's exterior looking a little worn out? Many homeowners wonder how to know when to replace their homes' siding. Luckily, if you know what to look for, there are some pretty clear signs that it's time to replace your siding. And while it's frustrating to know that even the best siding will wear out eventually, the good news is that replacing it will provide nearly a 93% return on investment when you sell your home! Read on for 6 unmistakable signs that it's time to replace your home's siding: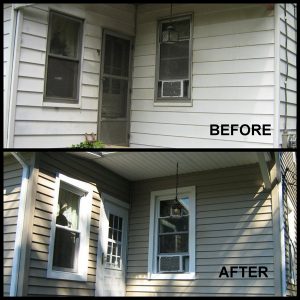 Warping, buckling, or bulging: Misshapen siding is more than just unsightly; it usually signals that water is seeping in behind the siding. This is as bad as it sounds, as it could cause the wood sheathing on your home to rot, not to mention create mold and mildew problems inside your home. It's definitely time to replace your siding. What if the siding problem is confined to one area? Well, you can replace only the siding that's damaged, but keep in mind that may appear different than the older siding on the rest of your home.
Rotting: if you have wood siding, it's more susceptible to rot than other types of siding. If the rot is only relegated to one area, you may be able to repair the damage without replacing all your home's siding, but you'll need to move quickly, as the fungi that causes dry rot spreads rapidly. To avoid continuously patching areas that fall victim to dry rot, we recommend replacing your old wood siding with new composite boards like James Hardie's Hardiplank® or with naturally rot-resistant vinyl siding, which are among the best siding options today.
Fading: while some fading is to be expected (indeed, fading is why new siding will look different laid against existing siding), severe fading is a sign that your home's exterior probably isn't enjoying the same level of protection and insulation that it was did. Faded siding can also may an entire home look tired and dated. Give it a facelift with brand-new siding and boost your home's resale value in the process.
Want to get started on new siding for your home? Click to contact us or call 973-927-0963 today!
Frequent repainting: Your home should only need repainting every 8 to 10 years. If you find that your home needs a new coat more often than that, it may be time to replace your home's siding. New siding will hold its color longer and perform better than worn-out cladding.
Holes and cracks: holes and cracks in your siding not only look awful, they also compromise your home's structural integrity. Through these gaps, moisture can penetrate the wood sheathing underneath, triggering the spread of mold, mildew, and rot. Plus, they can also serve as a convenient entry point for insidious pests like termites. Yikes! Be sure to replace the damaged siding right away.
Insulation issues: Is your home feeling draftier than it used to? Are your energy bills skyrocketing? This can be a sign of underperforming siding. Check to see if you notice drafts near exterior walls, especially around electrical receptacles and windows. Feeling cold air sneak in? it may be time to replace your siding. When you do, be sure to additional insulation underneath. These moves can save you money on heating and cooling costs and eliminate drafty spots from your home.
Your siding takes a beating—literally. Harsh wind, driving rain, lashing tree limbs, errant baseballs, pellets of hail…the list goes on and on. Add to that the hot summer sun and brittle winter cold, and it's a wonder your siding lasts as long as it does! Your siding has a tough job to do, and when it's past its prime, it can no longer act as your home's first line of defense. So, it's important that you know the signs that it's time to replace your siding. Spot one of these signs lurking on your own exterior walls? Don't panic! George J Keller and Sons are certified to install products from the best siding manufacturers in the business. We can inspect at your home's exterior and provide you with options and a free estimate. Give us a call today!